This weekend I didn't have any definite plans other than running a few errands, organizing things around the house, and hopefully getting out for at least a little while. As much as I love trying to do and see as much as I can on the weekends, there's also something to be said about doing nothing. On Friday afternoon I had the chance to get out for a bit in the late afternoon, so I decided to grab one of my favorite iced teas from Starbucks, and head to a local town to read on their beautiful green. On my way there I noticed a local church had the prettiest blue doors, so of course I had to stop along the way to snap a few photos.
This dress is a "hand-me-down" I recently acquired, although I use the term lightly, as it was never actually worn. After buying the dress knowing that it needed to be altered, a friend ultimately decided that she no longer liked it anymore, and asked if I wanted it. A fan of pretty much anything from Madewell, and fortunately the same size, I happily adopted it. I was also excited to take my new backpack out for the first time since buying it a week ago. After seeing someone with a similar backpack earlier this summer, I became obsessed with the idea of using a small backpack as a purse, and eventually set my sights on this one from Coach. Not only are they cute and practical, but there's just something about a little backpack purse that's so nineties – "There's a difference between like and love. Because, I like my Skechers, but I love my Prada backpack." Who else remembers this hilarious line from 10 Things I Hate About You?! Oh Bianca.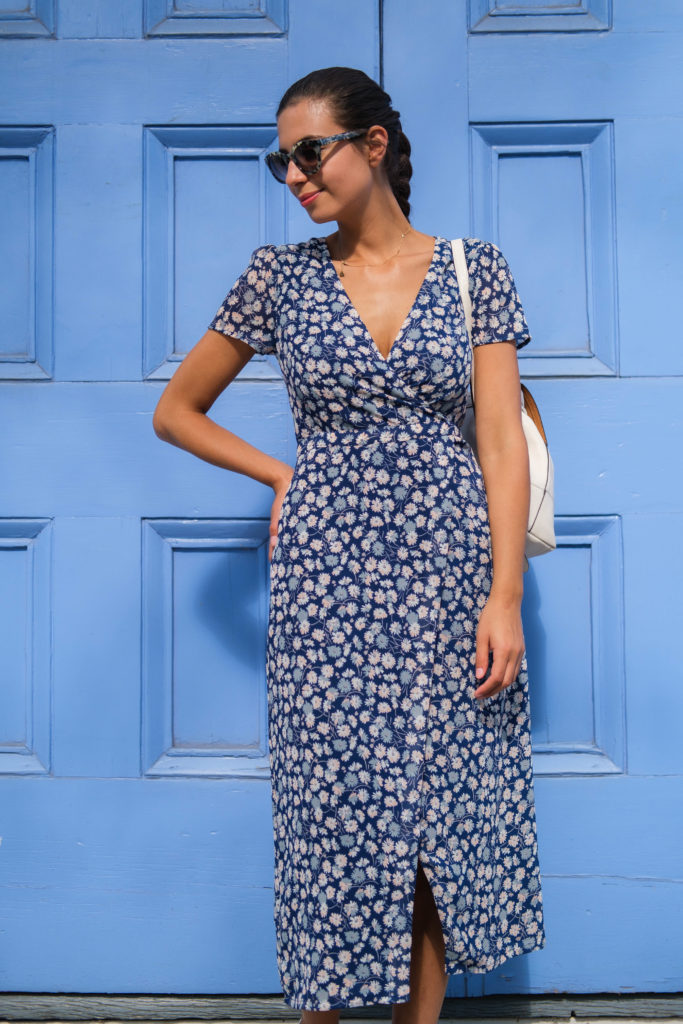 Outfit Details: Madewell Dress (no longer available, but I did see that there are quite a few on Poshmark) also love this dress, and this ruffled floral print maxi, Kenneth Cole Slingback Sandals (sizes are limited, similar option here), Coach Backpack, Banana Republic Satya Sunglasses (similar)
Below are a few other highlights of the weekend!
After weeks of being in between books, and experiencing the struggle of getting back into a new one, I finally started reading Happy and You know It by Laura Hankin, and I have not been able to put it down. I'm about halfway through and already dying to know how the ending is going to unfold. The book is compared to The Nanny Diaries, and while I am a big fan of both the book and movie, I love Happy and You Know It for the many female protagonists whose individual stories and adversities are woven beautifully into the plot, ultimately creating a dynamic story about motherhood, friendship, and the struggles every woman must face as she navigates both.
Just snagged this adorable boxy tie dye sweatshirt on clearance from Banana, and seriously can't get enough of it – have you embraced the current tie dye trend?
Sylvan Esso released this amazing new single last week, along with a music video shot in New York, and it's truly a sweet and hopeful love letter to the city. Whether you live in New York or not, it's a much needed reminder that even during one of the hardest years this country has faced, New York and the people who call it home will persevere.
While looking for a new show to watch, I stumbled upon the Amazon Original Red Oaks, which actually came out back in 2014 (don't know how I just discovered it!) They only made three seasons, but with a charming cast, and at times hilarious moments, it's definitely still worth getting into. The plot surrounds the goings-on at New Jersey country club where you'd think the employees were the members based on how much partying and antics go on. It's ultimately a coming-of-age tale about protagonist David, whose dreams of a career in the film industry falter under his father's wishes for him to pursue accounting. Oh, and did I forget to mention that it takes place in the mid 1980's?
I recently discovered the Phenomenal Woman Campaign, and they are the awesome organization behind these Justice for Breonna Taylor t-shirts that have been made in partnership with the Breonna Taylor Foundation in support of the #sayHerName campaign. Phenomenal Woman will be donating all profits from these t-shirts if you're looking for another way to lend support!
Disclosure: Some of the links featured in this post are affiliate links, meaning, at no additional cost you, I may earn an affiliate commission if you make a purchase. Everything I link is a product I love that I am excited to share here on In a City Night. Thank you for your support!